What We Do
Diagnosis and Treatment for Back Pain and Other Symptoms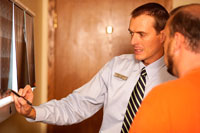 At Salt Lake Spine & Sports Medicine, we evaluate and treat people with a variety of conditions related to the spine, nerves, muscles, limbs, and joints. Back injuries and disorders can come with many symptoms. By taking a thorough history, doing a complete physical examination, pursuing appropriate imaging (X-ray, MRI, CT, ultrasound, etc.), and obtaining electrodiagnostic studies as needed, we can determine the best way to treat your symptoms and their underlying causes.

We use a variety of non-surgical techniques to help reduce pain, improve endurance and fitness, and return to full function. We work closely with some of the best physical therapists and surgeons in the Salt Lake City area.

We work to identify the source of and treat the following symptoms:
Pain in arms and legs
Tingling or numbness in extremities
Some symptoms may arise from specific work or sport injuries; with others you may not be able to identify a the exact pain generator. But whether you are suffering from a pinched nerve, lower back pain, or numbness in your fingers; we work to diagnose the source and guide you to the proper treatment.

Common conditions we diagnose include:
Spinal stenosis
Sciatica
Peripheral neuropathy
Other spine and extremity related work and sports injuries
Your Treatment Plan
Whenever possible, we create a treatment plan using non-surgical treatments. Treatments may include physical therapy, home exercise programs, medications, and/or injections. When surgery is needed, we can refer you to the best surgeons in Utah to ensure the job is done right.

If you are experiencing any of the symptoms above or believe you may have one of the conditions listed, contact us to schedule an appointment at one of our Salt Lake area locations. We'll thoroughly examine your affected areas to diagnose the problem and recommend treatment.